MSJC Art Gallery
The gallery is a place not only of displaying art but an active environment of people making, viewing and thinking about art.

ART TALK – Online Discussion Dulce Soledad Ibarra
Presented with Undocumented Student Action Week
Thursday, October 20, 1 – 2 pm Supported by The MSJC Foundation
This is a special opportunity to hear artist and MSJC associate faculty member Dulce Soledad Ibarra speak about her artwork and career as an artist. This special ART TALK is presented in conjunction with Undocumented Student Week of Action.
Register to join us on Zoom: https://msjc-edu.zoom.us/webinar/register/WN_pCN_BqzsRReNvZO6AyimgA
Dulce Soledad Ibarra is a multidisciplinary artist, designer, educator, and curator with investments in community and identity-emphasized arts and opportunity. As a practicing artist, Ibarra discusses issues of generational guilt, identity, class, labor, displacement, and injustice in sculptures, videos, installations, performances, and participatory work. Looking through queer Xicanx perspective, the work is fueled by emotional labor, personal and cultural research and analysis. Currently, the work is centered around the aesthetics and resilience of the Piñata/Party Supply District of Downtown Los Angeles, engaging in the means of sustaining as a community of businesses and as a place of cultural familiarities and commodities. Ibarra has exhibited, screened, performed, and programmed at venues across California, including Angels Gate Cultural Center, Charlie James Gallery, Consulado General de México en Los Ángeles, Craft Contemporary, Human Resources Los Angeles, and Pieter Performance Space, among others. Ibarra holds an MFA from the University of Southern California and earned a BFA in Sculpture from California State University, Long Beach.
Current exhibition:
Mt. San Jacinto College Art Gallery presents
Erik Escovedo, Decolonizing Place and Time
October 31 – December 7, 2022
Opening reception:
Tuesday, November 1, 4 – 7 pm
tour with the artist at 6 pm
Gallery Hour: Monday – Wednesday, 10 – 4 pm
MSJC Art Gallery
1499 N State St. Building 1400
San Jacinto, CA 92583
Instagram: @msjc_art
Facebook: @MSJC.Art.Dept
Contact: jknuth@msjc.edu
Mt. San Jacinto College Art Gallery is pleased to present Erik Escovedo, Decolonizing Place and Time. This is a special solo exhibition that kicks off our Native American Heritage Month at MSJC. In this epic scale oil paintings Erik Escovedo appropriates images of Native American activists and personal family photos. In his work Escovedo is painting healing and honorific images that recognize the intergenerational trauma of his family experience as Native people.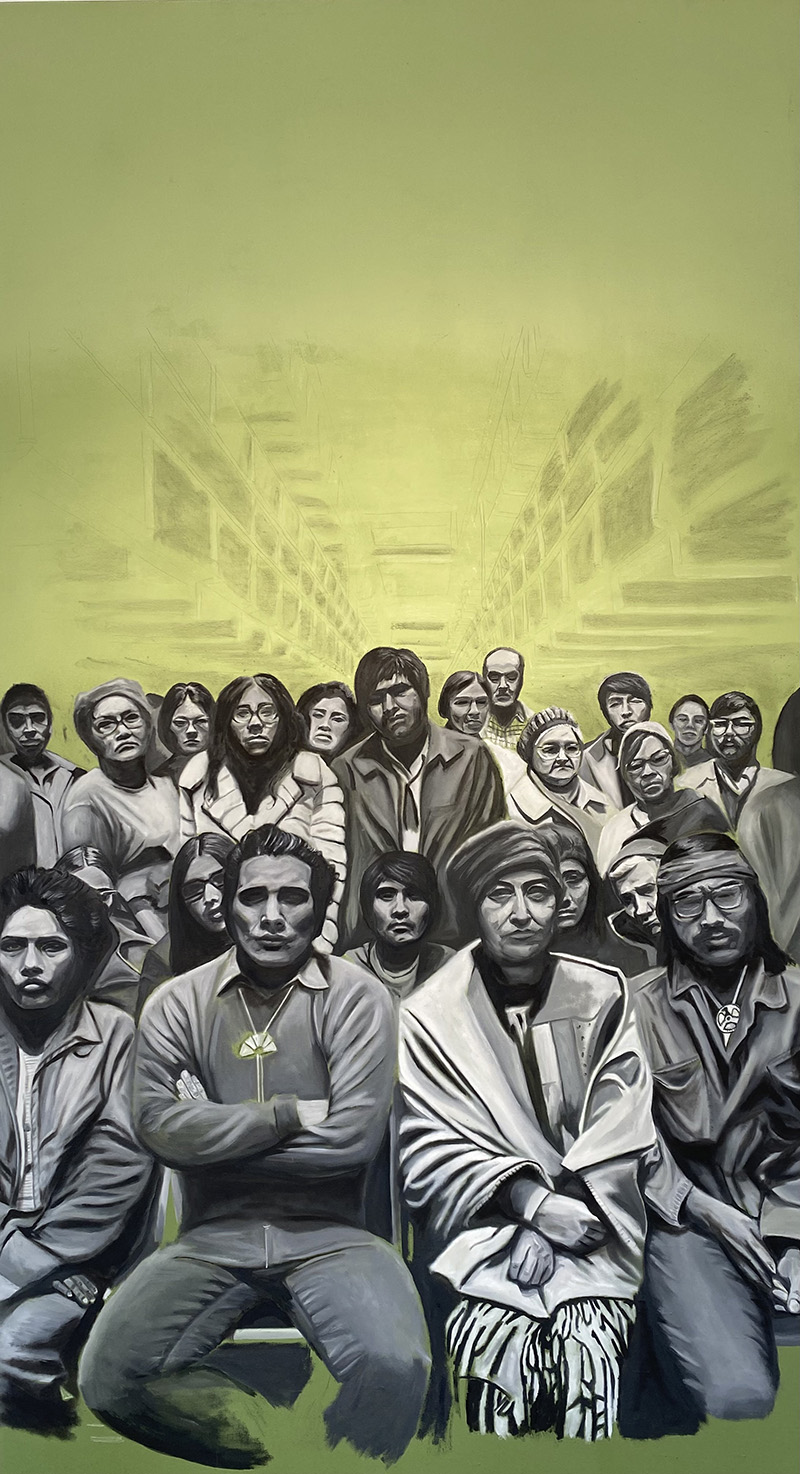 Mission Statement
Through its exhibition of a wide range of artwork and the sponsoring of various arts-related activities, the Mt. San Jacinto College Art Gallery is a learning and cultural center that celebrates creativity and self-expression, while promoting the rich diversity of the human experience.