Veterans/Dependents Employment Opportunities
Veterans/Dependents Employment Opportunities
MSJC is not affiliated with the following employment opportunities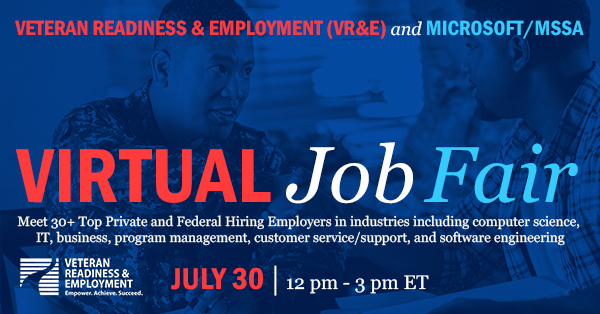 VR&E and Microsoft Virtual Job Fair - July 30
Are you looking for a new career in computer science, business management, information technology (A+, Net +, security +), customer support, program analysis or software engineering? Veteran Readiness and Employment (VR&E) has teamed up with Microsoft to host a virtual career fair on Friday, July 30 at 12 noon ET (9AM PT).
Please register here and set up a profile PRIOR to the event.
San Francisco Police Department Jobs - San-Francisco-Police-Department-Hiring-Workshops.aspx
Production Maintenance Supervisor
ESTEP- The Energy System Technology Evaluation Program is an Office of Naval Research funded internship opportunity for Veterans majoring in in STEM fields to obtain paid professional experience while participating in cutting-edge alternative energy research for the Department of the Navy.
Interested Veterans can find more information and apply at https://www.csusm.edu/veterans/index.html
---
Camp Pendleton Job Openings
Send tailored resume to John Engstrom at engstrom.john@gmail.com with copies of current IT certifications. Please specify which position and which location you are applying for.
Enterprise Service Desk (3 openings) $34-36K
One (1) year experience in IT required including at least one (1) year of customer service experience in IT and Security+ CE
SECRET CLEARANCE REQUIRED
IT Specialist Jr (1 Opening) $34-36K
2-4 yrs. IT experience; Security+ CE
. IT Spec. Sr. (1 Opening) $60K
~Experience Administering a Vsphere 5 infrastructure
~Experience Administering a NetApp SAN Infrastructure
Routing/Switching:
Experience in configuring and troubleshooting various network devices as well as routing protocols (such as BGP, EIGRP, OSPF), modifying and troubleshooting Access Control Lists, and conducting software/firmware upgrades.
Firewalls: Experience configuring and troubleshooting firewall security policies, VPNs, and software/firmware upgrades.
VPN appliances: Experience in configuring and troubleshooting Juniper Netscreen VPN appliances and conducting software/firmware upgrades.
REQUIRED:
Ten plus (10+) years of IT experience required.
CCNP or CCDP
Security+ CE
SECRET CLEARANCE with SSBI (or TOP SECRET) REQUIRED
Active Directory Specialist Sr. (2 openings) $58K
Active Directory:
~Experience administering Domain Controllers.
~Experience creating, applying and troubleshooting GPOs.
~Experience administering Active Directory Replication and Trusts.
~Experience Administering Active Directory via Powershell.
~Experience administering DNS.
Exchange:
~Experience installing and administering Exchange Server 2010/2013
~Experience administering Exchange Server connectors
~Experience Creating and administering an Exchange DAG.
~Experience Administering Exchange via Powershell
~~~Helpdesk experience administering active directory users and computers does not meet any of the above~~~
REQUIRED:
10+ years of IT experience including 6 years Active Directory and/or Exchange experience
Security+CE
MCSE EXPERT or MCITP