Digital Media Apprenticeship
Digital Media Apprenticeship
The Digital Media Department has partnered with JDS Creative Academy in Temecula to provide paid apprenticeship opportunities in video production, social media marketing, visual effects, and web. This non-traditional apprenticeship program provides 18-month, paid industry experience and training for qualified students.
To qualify for an interview with JDS Creative Academy, students must complete three Digital Media Courses, beginning with Intro to Digital Media, DIG 110. Once completed, the student is eligible to interview for various positions within JDS Creative Academy.
This innovative program brings industry relevance into the classroom, supports local employment needs, and expands student portfolios for future opportunities. The partnership directly addresses the middle-skill worker shortage in California and provides students with experience in high-demand digital media fields.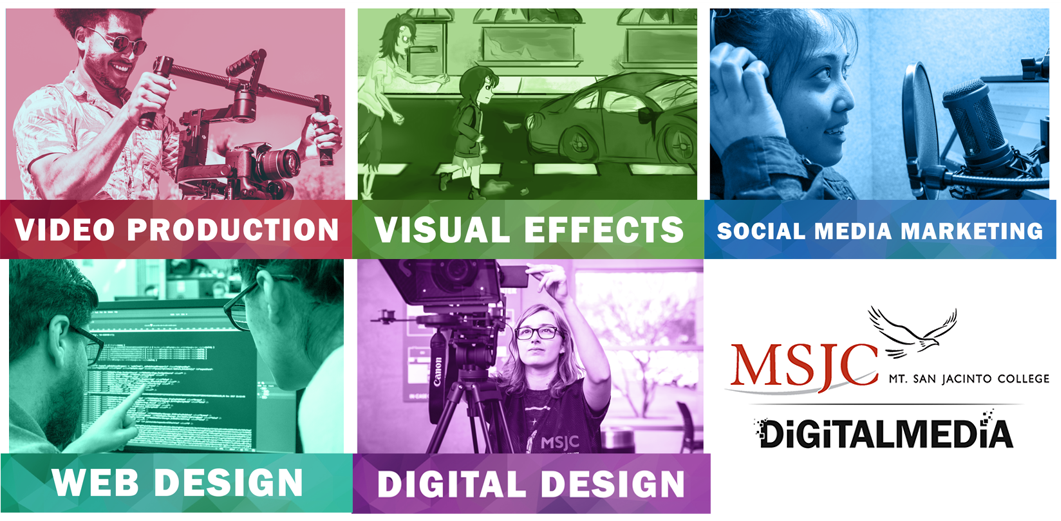 Eligibility:
Three Course Sequence – prerequisites for applying for the apprenticeship
DIG 110 Intro to Digital Media
DIG 190 Video Design I
Choose from the following:
DIG 181 Social Media Marketing
DIG 170 3D Animation
DIG 172 Motion Graphics
DIG 192 Digital Video Editing
AUD 143 Pro Tools 101
During Apprenticeship
Semester 1: DIG 191 Video Design II
Semester 2: DIG 193 Production Management
Semester 3: DIG 198 Digital Media Project Management (requires DIG 191 prerequisite)
Optional:
1. Or any remaining from the three course sequencing OR
2. DIG 180 Digital Media Design
3. DIG 171 2D Animation
4. DIG 175 Animation Production
Complete the Interview Request form if you've met the criteria above.
For more information, please contact:
Rhonda Nishimoto (951) 639-5550 | dig@msjc.edu
Digital Media Office (951) 639-5549